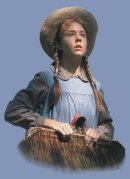 <! ------------------ End Menu -------------------- >
<! ------------------ Start Main -------------------- >
Sounds

Actual Lines from Anne of Green Gables: The Continuing Story
All of the sounds below are in .wav format and the size of the file is given so that you can judge how long it will take to download. Just click on a line and you will be on your way to hearing the sounds from the movie.

Diana: Sheís so ridiculously impulsive. 323KB
Anne: Mr. Harrisonís going to get a tongue lashing from me when I see him next. 550KB
Anne: Oh, if I were blind, I should never forget the contours of your face. 740KB
Anne: This place is in both our souls, Gil. 398KB
Anne: Iím only sure of one thing: that Iím scandalously in love with you. 955KB
Anne: Itís unbearable to have insignificance ingrained into your very soul. 639KB
Anne: Iíve made up my mind to go to my grave unwept, unhonored, and unsung. 671KB
Anne: Well, youíll like what I find, sir, as much as youíll grow to have faith in me. 738KB
Anne: Iím in trouble. I need help. 368KB
Gilbert: no one can tell you how to write. 492KB
Gilbert: Itís the best of everything youíve ever written. 566KB
Mr. Owen: Now, weíd all like to take credit for a job well done, but letís not be absurd. 738KB
Gilbert: But I love you for all your unpredictability. 657KB
Anne: Iím home now. 214KB
Anne: Well, we canít always take the most obvious road in life. 664KB
Gilbert: Marry me now. Let me go. 973KB
Anne: Everything Iíve ever loved gets taken away. 846KB
Gilbert: Diana, weíve waited five years for this. Donít rush. 840KB
Jack: Life is full of missed opportunities. 301KB
Maud: Oh, please. I was raised in Manhattan. Youíre not going to burden with some perfidious little New York editor. 1119KB
Anne: Our children will be kindred spirits for life. 419KB
Anne: Green Gables will always be here this way in my heart. 520KB
Gilbert: Weíll build a good home, and raise a family, with lots of scope for the imagination. 1003KB
Anne: Green Gables will always be a part of me. 370KB


<! ------------------ End Main -------------------- >

.
---
Copyright of images contained on this Web site and related to Anne of Green Gables
and all other Sullivan films is owned by Sullivan Entertainment Inc. and
permission to use such images has been granted by Sullivan Entertainment Inc.